On February 1 of the new year, Human Resources Department issued certificates to the in-house trainers who won the "Gold/Silver Trainer" and "Excellent Trainer" titles, and awarded them cash bonuses. In order to strengthen the company¡¯s in-house training, to take full advantage of the excellent staff expertise, and to realize experience sharing and the common progress of all employees, an in-house training team was composed of 15 outstanding businesspersons and leaders from 10 departments in 2011. They used their rest time to hold 42 times of training courses of various contents for more than 1,000 person-times and obtained impressive results.
At the same time, the company introduced appropriate incentives in order to encourage the in-house trainers to strengthen their own learning and education, and to improve their own professional qualities. In 2011, the company selected and sent out 3 senior trainers to attend training courses. This year the company will continue to provide a variety of training opportunities to help enhance the training skills of the trainers.
To ensure the quality of this training team, the Human Resources Department conducts a comprehensive assessment annually on the in-house trainers, mainly examines the hours of training time and the results of trainings. According to the statistical numbers of effect track and evaluation, Mr. Chen Guoqing and Ms. Yu Zhuanling won the "Golden Trainer" title; Mr. Zhang Xuerong (in Shanghai failed to photo) and Ms. Jia Lili won the "Silver Trainer" title; and Ms. Qian Hua, Ms. Zhong Xiaorong, Mr. Xu Lin, Mr. Zhao Fei Yang, Mr. Liu Chuanming, Ms. Chen Rongxiang, Mr. Zhuang Zhan, Mr. Xu Zuosong, Ms. Jiang Haixia, Mr. Zhang Hongyi, Mr. Dai Jiajian, Mr. Shi Zirong, Mr. Pang Hongliang (in no particular order) won the "Excellent Trainer" the title.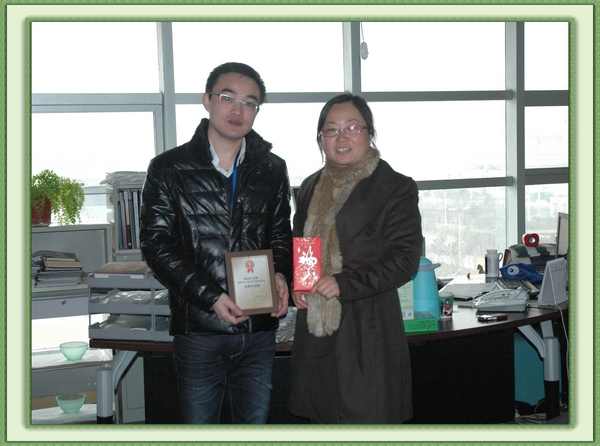 Golden Trainer Mr. Chen Guoqing (left)
Golden Trainer Ms. Yu Zhuanling (left)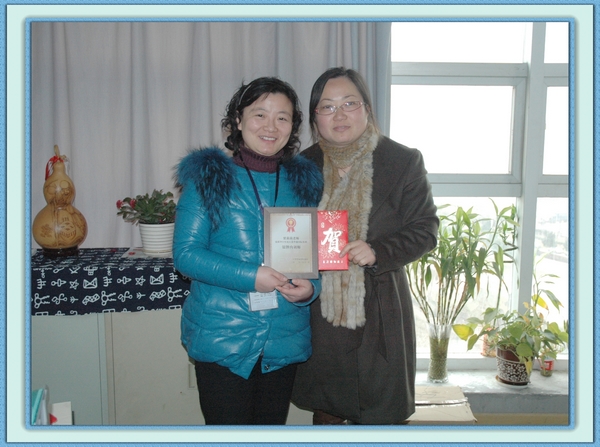 Silver Trainer Ms. Jia Lili (left)
On behalf of the company, Human Resources Department thanks the in-house trainers for their valuable time and hard work. We hope every body of you continue to strive for new achievements. Also, we welcome other colleagues interested in the work of internal training to take an active enrolment. With you join us, we are sure to do an even better job.